643
properties meet your criteria:
Town/City/Village::
Sofia
Information on the city of Sofia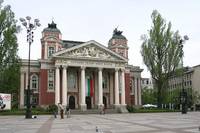 Sofia Sofia, the capital of Bulgaria, stands at 550 m altitude in the plain of the same name and is surrounded by the Lyulin Mountain and the Vitosha Mountain. Its location makes the climate soft and pleasant. The population numbers 1 200 000 people. The first traces of human life were 5000 years ago. The Thracian Serdi Tribe settled around the thermal springs in the region in the 18th century BC. Later Romans made it an important center, turned it into a town and gave...
Find more
Cheap apartment for sale in Sofia
Price:

€48500


Town/City/Village:: Sofia
Property Type: Apartment
Area: 55 sqm
Status: Available
An excellent offer! The capital of Bulgaria Sofia is a cosmopolitan city, famous for its beautiful architecture and the thousands of lovely real estates it offers! Sofia has prefect infrastructure and owning a property here is a great advantage in ...
Find more

Shop for rent in Sofia
Price:

€200


Town/City/Village:: Sofia
Property Type: Shop
Area: 25 sqm
Status: Available
This property is perfect for your business. It's in the top center of the capital of Bulgaria-Sofia. This is a luxurious shop which is 25 sq.m. and consists of a room with toilet. All the premises are in excellent condition. There is ...
Find more

Apartment for sale in Sofia
Price:

€180000


Town/City/Village:: Sofia
Property Type: Apartment
Area: 117 sqm
Status: Available
Situated in the heart of the capital city, this apartment is an excellent offer for a new home, and a proper investment.It is in a solid brick building, with shops and offices on the first 2 floors. The apartment is on the top floor - 6, and offers ...
Find more

Apartment for sale in Sofia
Price:

€57000


Town/City/Village:: Sofia
Property Type: Apartment
Area: 64 sqm
Status: Available
Very luring offer! The capital of Bulgaria Sofia is a cosmopolitan city, famous for its beautiful architecture and the thousands of lovely real estates it offers! Sofia has prefect infrastructure and owning a property here is a great advantage in ...
Find more

Luxury apartment for sale in Sofia
Price:

€70000


Town/City/Village:: Sofia
Property Type: Luxury property
Area: 65 sqm
Status: Available
Very luring offer! The capital of Bulgaria Sofia is a cosmopolitan city, famous for its beautiful architecture and the thousands of lovely real estates it offers! Sofia has prefect infrastructure and owning a property here is a great advantage in ...
Find more

Apartment for sale in Sofia
Price:

€105750


Town/City/Village:: Sofia
Property Type: Apartment
Area: 141 sqm
Status: Available
Very luring offer! The capital of Bulgaria Sofia is a cosmopolitan city, famous for its beautiful architecture and the thousands of lovely real estates it offers! Sofia has prefect infrastructure and owning a property here is a great advantage in ...
Find more

Apartment for sale in Sofia
Price:

€87000


Town/City/Village:: Sofia
Property Type: Apartment
Area: 116 sqm
Status: Available
Very luring offer! The capital of Bulgaria Sofia is a cosmopolitan city, famous for its beautiful architecture and the thousands of lovely real estates it offers! Sofia has prefect infrastructure and owning a property here is a great advantage in ...
Find more

Cheap apartment for sale in Sofia
Price:

€46000


Town/City/Village:: Sofia
Property Type: Apartment
Area: 66 sqm
Status: Available
A very advantageous offer! The beautiful capital of Bulgaria, Sofia, is situated in Western Bulgaria, in the foothills of the Vitosha Mountain. The city has well-established infrastructure and plenty of lovely real estates. We offer you the ...
Find more

Apartment for sale in Sofia
Price:

€82600


Town/City/Village:: Sofia
Property Type: Apartment
Area: 70 sqm
Status: Available
A great offer for you! The apartment is located in the top centre of Sofia – the capital of Bulgaria. It is in mountain area, near ski resort. The capital is a very modern and developed city, with perfect infrastructure. Sofia is preferable ...
Find more

Cheap apartment for sale in Sofia
Price:

€33000


Town/City/Village:: Sofia
Property Type: Apartment
Area: 22 sqm
Status: Available
A great offer for you! The apartment is located in the centre of Sofia – the splendid capital of Bulgaria. This is the most developed city in the country with well-established infrastructure, excellent transport connections with the other ...
Find more