982
properties meet your criteria:
Town/City/Village::
Varna
Information on the city of Varna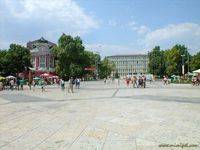 Varna The city of Varna lies in the Bay of Varna and is one of the oldest Bulgarian cities. In the 6th century Greek colonists from Millet first inhabited the area and gave it the name of Odessos. During the Roman times it was a big cultural and trading centre. Odessos was severally destroyed and finally fell under Byzantium power. Slavs renamed it to Varna and in the end of the VIII century it was included in the territory of Bulgaria. During the Second Bulgarian state, Varna was one of...
Find more
Cheap House for Sale in Varna
Price:

€255000


Town/City/Village:: Varna
Property Type: House and Villa
Yard: 1000 sqm
Area: 125 sqm
Status: Available
The city of Varna is about thousand years old. Due to its favourable geographic location, the place was first inhabited by an ancient Thracian tribe, Corbisi, which had a small fishermen settlement there. In the 6th century BC a Greek polis, named ...
Find more

Land plot for sale in Varna
Price:

€89102


Town/City/Village:: Varna
Property Type: Land for sale
Area: 1937 sqm
Status: Available
Varna Black Sea coast offers a combination of marvelous conditions for sea tourism, rich cultural heritage and incredible nature. The sea capital of Varna gives opportunities for pleasant recreation at seaside, entertainment and ...
Find more

Land for sale in Varna
Price:

€65000


Town/City/Village:: Varna
Property Type: Land for sale
Area: 1900 sqm
Status: Available
The complex is relatively new and is a typical holiday city with no permanent population. Most of it was built during communist times with each of the villa and bungalow complexes having been managed by a state-owned company. Now the situation is ...
Find more

homes for sale in Bulgaria
Price:

€107000


Town/City/Village:: Varna
Property Type: Luxury property
Yard: 750 sqm
Area: 150 sqm
Status: Available
This exceptionally well designed brand new 3 bedroom house, stands in a detached plot of 750 square metres in a fast emerging and thriving village. The property has been ...
Find more

new property in Bulgaria
Price:

€84000


Town/City/Village:: Varna
Property Type: Luxury property
Yard: 600 sqm
Area: 108 sqm
Status: Available
Varna Black Sea coast offers a combination of marvellous conditions for sea tourism, rich cultural heritage and incredible nature. The sea capital of Varna gives opportunities for pleasant recreation at seaside, entertainment and ...
Find more

Apartment Byala
Price:

€128000


Town/City/Village:: Varna
Property Type: Luxury property
Yard: 875 sqm
Area: 110 sqm
Status: Available
The city of Varna is the third largest city in Bulgaria with its population of 314,539 people. It is widely called the seaside capital of Bulgaria as it is the biggest city at the Bulgarian coast. The city lies in the Bay of Varna, nestled in a deep ...
Find more

Luxury House for Sale near Varna
Price:

€120000


Town/City/Village:: Varna
Property Type: Luxury property
Yard: 900 sqm
Area: 145 sqm
Status: Available
Varna Black Sea coast offers a combination of marvellous conditions for sea tourism, rich cultural heritage and incredible nature. The sea capital of Varna gives opportunities for pleasant recreation at seaside, entertainment and ...
Find more

Luxury house for sale near Varna
Price:

€125000


Town/City/Village:: Varna
Property Type: Luxury property
Yard: 1000 sqm
Area: 125 sqm
Status: Available
Varna Black Sea coast offers a combination of marvelous conditions for sea tourism, rich cultural heritage and incredible nature. The sea capital of Varna gives opportunities for pleasant recreation at seaside, entertainment and ...
Find more

Land for sale near Varna
Price:

€576000


Town/City/Village:: Varna
Property Type: Land for sale
Area: 16000 sqm
Status: Available
Varna Black Sea coast offers a combination of marvellous conditions for sea tourism, rich cultural heritage and incredible nature. The sea capital of Varna gives opportunities for pleasant recreation at seaside, entertainment and cultural tourism. ...
Find more

House for sale near Varna
Price:

€22700


Town/City/Village:: Varna
Property Type: House and Villa
Yard: 1040 sqm
Area: 70 sqm
Status: Available
This is a lovely, 2-storey house in a picturesque area. The village is tranquil; people are hospitable. The property is situated in the centre of the village. There is a beautiful forest and a dam lake nearby, offering a chance for spending an ...
Find more