175
properties meet your criteria:
Town/City/Village::
Primorsko
Information on the city of Primorsko
Primorsko The town of Primorsko is located 26 km to the south of Sozopol, 52 km to the south of Bourgas and 442 km to the southeast of Sofia. It lies on the Kjupria cape, jutting out between Stamopoulo Bay and the Diavolski (Devil's) Bay. The settlement arose in the end of the XIX century. Primorko is famous for its magnificent nature. It is surrounded by the forests of the Strandja Mountain. Over 80 holiday homs and sites, hotels and private rooms are located in a park of deciduous trees....
Find more
Apartments for sale in Primorsko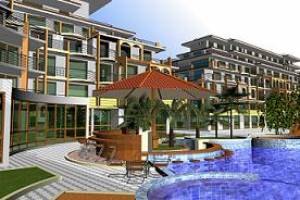 Price:

€31691


district: Bîurgas
Town/City/Village:: Primorsko
Property Type: Off-plan
Total Floor Area: 46.61 sqm
Status: Available
PRESTIGE CITY II PRIMORSKO The perspective and wise investment! Prestige City II Primorsko The sea, the beach strip and the spectacular scenery have never seemed so close and tempting! Prestige City II Primorsko Fully furnished ...
Find more

Land plot for Sale in Primorsko
Price:

€460928


Town/City/Village:: Primorsko
Property Type: Land for sale
Area: 28808 sqm
Status: Available
This property is located just 4km from the lovely small town of Primorsko, endowed with natural wealth and beauty through a perfect combination of sea, forest, mountain, river, and lake. It is situated just 600-800m from the airport of Primorsko for ...
Find more

Apartment Primorsko
Price:

€57000


Town/City/Village:: Primorsko
Property Type: Apartment
Area: 60 sqm
Status: Available
This luxurious apartment is in the town of Primorsko, which is situated at the seaside just 51km away from the city of Bourgas. All of the necessary facilities are available - electricity, running water, and an active phone line. There are 2 rooms, ...
Find more

Land for sale near Primorsko
Price:

€56000


Town/City/Village:: Primorsko
Property Type: Land for sale
Area: 7000 sqm
Status: Available
The property is located in a very beautiful region just 16 km from one of the most popular and best loved vacation places in Bulgaria – Primorsko, and 28 km from the splendid sea city of Bourgas, where there is a port and an air-port as well ...
Find more

Cheap House for Sale near Primorsko
Price:

€40000


Town/City/Village:: Primorsko
Property Type: House and Villa
Yard: 215 sqm
Area: 50 sqm
Status: Available
The village where this property is situated is in a hilly healthy region, only 18 km from the charming seaside town of Primorsko, famous for its wide beaches and fine sands. It is only 27 km from the sea city of Bourgas, with an international ...
Find more

House for sale near Primorsko
Price:

€49500


Town/City/Village:: Primorsko
Property Type: House and Villa
Yard: 1302 sqm
Area: 60 sqm
Status: Available
This unfinished three-storey house with a total of 180 sq. m of living area is set within a big garden of 1302 sq. m at the edge of a lovely village situated in the foot of the Strandja Mountains Nature Park and just 16km from the magnificent ...
Find more

Luxury House for Sale in Primorsko
Price:

€175000


Town/City/Village:: Primorsko
Property Type: Luxury property
Area: 75 sqm
Status: Available
Set amidst the woods and just 1km from the magnificent beaches of the popular resort town of Primorsko, this luxurious fully furnished two-storey house with a total of 150 sq. m is newly-built and offers a living room, kitchen, dining-room, and a ...
Find more

Cheap House for Sale near Primorsko
Price:

€45000


Town/City/Village:: Primorsko
Property Type: House and Villa
Yard: 700 sqm
Area: 80 sqm
Status: Available
The village where this property is situated is in a hilly area and a beautiful Ropotamo River flowing through, only 18 km from the charming seaside town of Primorsko, famous for its wide beaches and fine sands. It is only 27 km from the sea city of ...
Find more

Apartments for sale in Primorsko
Price:

€49413


Town/City/Village:: Primorsko
Property Type: Luxury property
Area: 47 sqm
Status: Available
PRESTIGE CITY II is a resort complex, located in a heavenly recess endowed by Mother Nature with all of its natural wealth and beauty through a perfect combination of sea, forest, mountain, river, and lake. This fine development is just a mile from ...
Find more

Land for sale in Primorsko
Price:

€54000


Town/City/Village:: Primorsko
Property Type: Land for sale
Area: 600 sqm
Status: Available
Set amidst the woods and just 2 km from the magnificent beaches of the popular resort town of Primorsko, this regulated 600sqm plot of building land comes with a project for two semi-detached houses to build and each house can have 100 sq. m living ...
Find more